So many tasks, so many emails, so much to do – it really can be stressful. But stay cool – we have a super simple stress strategy for you: Take15. Just a 15-minute break is enough to relax, refuel and reset. Don't believe us? Give it a try with these simple tricks!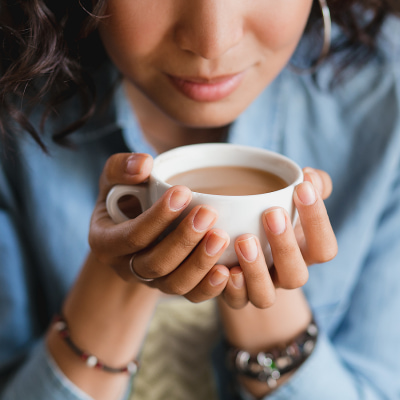 The good news is: Just a few minutes of self-care can help reduce stress and improve your wellbeing. Treat yourself to a small 15-minute break to unwind, refresh and relax. Everyone should be able to spare 15 minutes for a break. And it's always time well invested, because afterward you'll feel better and able to complete all of your tasks more quickly and easily.
As an old Japanese saying goes: When you're in a hurry, slow down or take a detour. So Take15 and outwit that stress.
Why TAKE15?
Studies have shown that taking short breaks at work reduces stress and improves performance.
Breaks can improve the memory, because they give the brain time to process what you have learned and experienced.
Research shows that resting gives us a boost of energy and helps us be more creative and productive.
Destressing helps you improve your blood pressure, sleep better and even lower your risk of heart disease.
Ten easy ways to TAKE15

Ready to TAKE15? Great – but what will you do with these precious 15 minutes? Whatever does you good! Start by taking a look at our ten Take15 ideas and find your favorite way to take a break. You're sure to have many break ideas, too. Get creative and see what works best for you. Have fun!
Take nature walks

It has been proven that just a short nature walk will help recharge your batteries, lower stress and improve memory. So go to the park, walk around or sit in the sunshine and enjoy the green space and fresh air.
Strech out

Stress tenses up the shoulder, neck and back muscles. Find a 15-minute exercise program to stretch your neck and back and relieve tension. Yoga videos are great for stretching and destressing. And exercise increases endorphins, making it a natural mood-booster.
Find a break buddy

Meet with a colleague or friend for a 15-minute chat. Because connecting with other people is hugely important for our wellbeing. If you get together to chat, smile and laugh, you'll all return to work with more motivation and in a better mood.
Get creative

Crafting, coloring or making music enables us to relax, focus and get in the zone. If you prefer to enjoy the creative works of others, just listen to your favorite music or quietly contemplate beautiful artwork.
Laugh out loud

Laughter is the best medicine. Laughter increases feel-good endorphins and melts stress away. And if you don't feel like laughing? A funny book, podcast or pet video will surely help get you started.
Enjoy every bite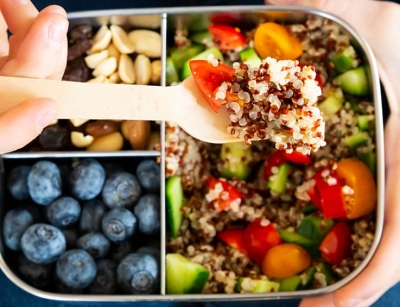 When you're hungry, don't snack as you work but take a break and eat mindfully, enjoying your food with all of your senses. Enjoy the look, taste and smell. This way, even a tea, coffee or snack break can be a relaxing, enjoyable time-out.
Refresh your space

Admittedly, tidying up doesn't sound like the most exciting way to spend your break. But tidy surroundings often bring clarity to our thoughts and feelings. Tidying can thus help us destress and give us a great feeling of having achieved something. Washing up, making the bed or vacuuming can distract you and be done in just 15 minutes.
Practice mindfulness or meditation

Take 15 minutes now and again to meditate or breathe mindfully. When your thoughts start to wander, patiently center them again. In the long-term, meditation can help you reduce stress, sleep better and feel more balanced. Mindful breathing decreases the heartrate, improves blood pressure and even lowers the risk of heart disease.
Be thankful

When you feel bad or stressed, stop and spend 15 minutes considering what you can be thankful for. It could be something small like good weather or a delicious meal. Or bigger things, like having a roof over your head, a nice group of friends or good health. Focusing on the positive will put you in a good mood and reduce stress.
Take a power nap
Sleep is a reliable way to recharge your batteries, help you focus and get yourself in a better mood. If you nap during the day, keep it short so you that don't fall into a deep sleep and struggle to get going again. Set an alarm for 15 minutes and wake up refreshed.
TAKE15 tips

Make Take15 a habit. Plan at least one 15-minute break every day. And add a few more if you like. Try to spread them over the course of the day. You can take them at scheduled times or whenever you feel the pressure building up.
Use a stopwatch to time your break so that you really do just take 15 minutes. Of course, taking longer would be more fun. But then you might spend too much time on your break, which in the end might stress you out again or make you feel dissatisfied. And that's exactly what we're trying to avoid.
Note: Since everyone's health history and nutritional needs are so different, please make sure that you talk with your doctor and a registered dietitian to get advice about the diet and exercise plan that's right for you.