Be as smart as Ali Baba and open sesame for yourself! Sesame seeds are bursting with powerful immunity boosters – ready to defend you against the 40 thieves from the realm of the cold viruses that are coming to attack your health. So, arm yourself with sesame and its friends!
Immunity treasures from Arabian nights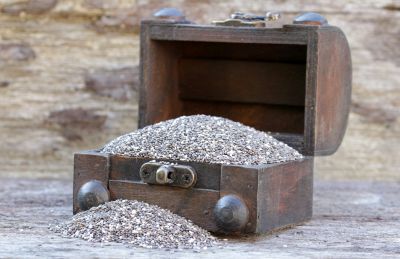 Sesame is a treasure that glitters in golden yellow, or sometimes glossy black. Sounds pretty, but aren't these little seeds a bit too small for the big effort of protection? Don't let appearances deceive you: Sesame is packed with immune power. It contains nearly the entire arsenal of key nutrients for a well-functioning immune system: From iron and zinc, copper and selenium to vitamin B6 and folic acid. And minerals like calcium and magnesium are thrown in for free.
Just a spoonful for protection
Did you know that sesame seeds are among the richest of all foods in selenium? Just one spoonful (10g) is enough to meet your daily requirement of selenium and one tenth of your iron requirement. When it comes to copper, these nutty seeds are out in front, too. And, together with poppyseeds, they top the charts for zinc. These golden seeds also score top marks with valuable unsaturated fatty acids such as oleic and linoleic acid. And with 50-percent fat content, these supergrains aren't short of calories either. That's why a spoonful a day is a good quantity guideline.
Strength-giving buddies: Nuts and seeds
But there's no reason at all to rely solely on sesame for your defensive line-up. Its buddies from the nuts and seeds team are just as happy to flex their muscles for you. Poppyseed even beats sesame into second place for zinc content. Poppyseed and flaxseed are equally hard to beat for iron content. And sunflower seeds lead the field among the folic acid suppliers. Brazil nuts are an unbeatable source of copper, and one Brazil nut alone is enough to meet your daily requirement of selenium. They offer a tasty way to make your defenses too tough to crack.
Find out more about the super powers of poppyseed, flaxseed, sesame and Co. in our article Super seeds: The underrated power packs.
Note: Since everyone's health history and nutritional needs are so different, please make sure that you talk with your doctor and a registered dietitian to get advice about the diet and exercise plan that's right for you.