Sunflower seeds, flax seeds, poppy seeds and sesame seeds – pretty and innocent, they decorate our bread and our bread rolls. We like them because of their nutty flavor. But honestly, did you know how much power is packed in these little fellows? The inconspicuous oilseeds are a surprisingly potent source of minerals, valuable fats and boast as much protein as a schnitzel. With their crunchy bite and nutty flavor, they give muesli, soups, salads and many other dishes that little something extra. What can we learn from this? That we need to snack on super seeds more often. And never underestimate the power that comes in little packages.
The concentrated power of little seeds
Why is there so much power in these little seeds? It's obvious: They have to provide the seedling with everything it needs to become a big, strong plant but from a concentrated, tiny little space. And if it makes plants strong, it can't do you any harm either. For example, oilseeds provide valuable unsaturated fatty acids, high-quality protein, and important minerals and vitamins. But also a plenty of calories – which you might not need as much as a young plant would.
Goes down as smooth as oil: unsaturated fatty acids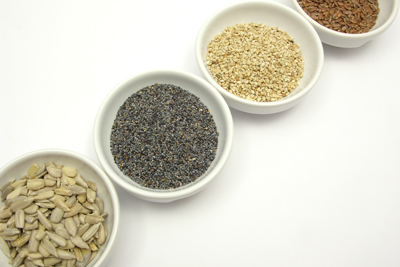 Sunflower seeds, flax seeds, poppy seeds and sesame seeds are all known as oilseeds, because they are jam packed with plant oils. Sesame and sunflower seeds are made up of a whopping 50 percent fat. Flax seeds contain a good 30 percent and poppy seeds 40 percent fat. The great advantage: These fats are predominantly particularly valuable unsaturated fatty acids, including omega-3 fatty acids. They contribute to healthy cholesterol levels. Because your body can't make them itself, you have to eat them as part of your diet.
As much protein as a schnitzel
It only becomes clear how awesome these inconspicuous little nutrition bombs are when you realize that they also contain 20 percent protein. So they are easily just as good as a schnitzel or a chop when it comes to protein content – but that's calculated per 100g of each.
The best fiber boosters
Another advantage of these little seeds is their high fiber content. They aid digestion and fill you up without adding calories. Flax seeds contain by far the most fiber. One tablespoon of flax seeds (10g) contains around four grams of fiber – a contribution to our daily fiber requirement of 30 grams that's not to be underestimated. Poppy seeds come in at second with two grams of fiber per tablespoon.
Important vitamins: E, B1, B6 and folic acid
And little plants need plenty of vitamins as well. All four oil seeds are rich in folic acid, which is an important growth vitamin and particularly important for pregnant women. The seeds also contain other B vitamins. 100 grams of sunflower seeds contain more than our daily requirement of vitamin B1, which means that a tablespoon (10g) covers at least 10 percent of our daily requirement. Sesame seeds come out top when it comes to vitamin B6. Sunflower seeds score highly with an impressive 38 milligrams of vitamin E per 100 grams – therefore, a tablespoon provides a good quarter of our daily requirement (12–15 milligrams).
The mega mineral source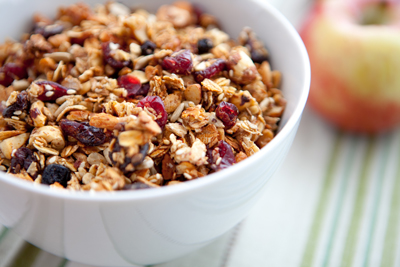 Finally, one last highlight: When it comes to minerals and trace elements, these super seeds show their true greatness. With an unbelievable 1,460 milligrams of calcium per 100 grams, poppy seeds are one of the most calcium-rich foods we can eat. And a tablespoon of sesame seeds gives us almost a tenth of our daily calcium requirement. All four oilseeds provide a good deal of magnesium. They also serve as an iron-clad supply of iron: 100 grams of sesame seeds contains our daily requirement of blood-forming iron, even if we obviously wouldn't eat that amount. Poppy and flax seeds come in just below that. Poppy and sesame seeds are also rich in zinc. With iron, zinc and selenium, sesame seeds provide the perfect immune boosting trio.
Oilseeds: How much should you eat?
You've got to admit – these seeds are just super! The many benefits will have hopefully convinced you to grab a handful of these little guys every now and then. And they're not just great in muesli or as a baking ingredient, they'll also give salads and soups that extra bite. They can even be used to liven up meat, vegetables and fish, by mixing them in with breadcrumbs to make a seedy crust. As exciting as these little power packs are, they should still be enjoyed in moderation, because a lot of power also means a lot of energy – so a lot of calories. Around a tablespoon per day is a good guide.
Note: Since everyone's health history and nutritional needs are so different, please make sure that you talk with your doctor and a registered dietitian to get advice about the diet and exercise plan that's right for you.