Do you want to sleep in until the very last minute and still be on the ball when you get up? There's an excellent trick for that: quick oats. Not the bland oatmeal of the past, but a hearty, delicious boost in the mornings that gives you everything you need for the day. It can be on your table in seconds or quickly packed up for later. And off you go!
Did you know that oatmeal is a super energy booster that keeps your mood elevated for long periods of time and whips you into shape with a ton of valuable nutrients? Because oats are rich in beta glucan. This soluble fiber not only fills you up, but also ensures your blood sugar rises more slowly and more evenly. Thus you can perform consistently well for the whole morning.
Power cocktail with "nerve vitamins"
Oats contain a power cocktail of vitamins and minerals that provide your body and mind with the foundation they need to work perfectly. Oats are rich in vitamin B1 and contain three times as much vitamin B6 as wheat, rye or barley. These "nerve vitamins" are important for helping your nervous system and psyche function properly. Vitamin B6 even helps to reduce tiredness and fatigue. Exactly what you need in the morning. What's more, oats are also a source of zinc, which is needed for our brains to function properly.
A quick start with oats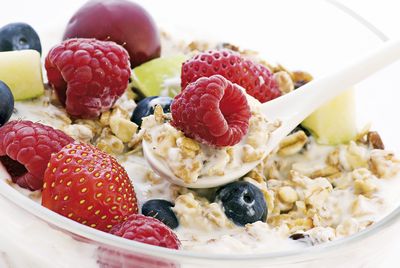 The perfect breakfast for a quick start: Pour oats into a bowl, add sliced fruit, some milk or yoghurt, and maybe sprinkle some flax or chia seeds on top. Nuts give the whole thing more crunch. Those who don't like chopping can use pre-cut dried fruit. Oatmeal fans who need something warm early in the morning can heat milk and oats on the stove or in the microwave.  Did you know? Oats are always whole-grain and ensure a comfortably full belly for longer.
Meal Prep with overnight oats
If you prefer to sleep in, you can even prepare your oat-booster the night before. Overnight oats are currently all the rage – and they're really nothing other than oats soaked overnight. Simply mix oats with two to three times the amount of yoghurt or milk the night before and put the mixture in the fridge. If you're often in a rush in the mornings, you can even add chopped nuts, seeds and sliced fruit in the evening. Or quickly top with a handful of berries in the morning.
Breakfast to go für morning grouches
Do you sometimes struggle to eat early in the morning? Then an oat breakfast to go is for you. It's easy to prepare in advance, and it never gets boring because there are always new combinations of dried fruits and nuts to try. Simply put the oats, all the dry ingredients and maybe a little bit of powdered milk in a microwave-safe container with a tight seal. When you get hungry, add milk or water and heat in the microwave for two minutes at 600 watts. Leave to stand for two minutes before eating. If you don't have a microwave, simply leave the mixture to soak for a half hour and enjoy your breakfast cold.
Our Aramark chefs have created a tasty recipe for overnight oats to go
Note: Since everyone's health history and nutritional needs are so different, please make sure that you talk with your doctor and a registered dietitian to get advice about the diet and exercise plan that's right for you.