While colorful fruits and vegetables immediately catch the eye, less colorful foods such as mushrooms can easily fade into the background. But these little guys really have no need to hide away. With their wonderfully aromatic flavor, unique consistency and numerous nutrients but low calorie-count, they can make a big splash in a whole wealth of dishes.
The chef's secret weapon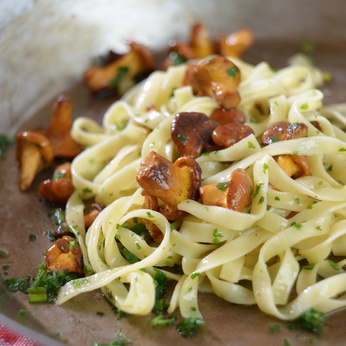 Mushrooms are the insider tip for giving savory dishes the intense, rounded and aromatic flavor that will make everyone lick their lips. They are a prime example of the "umami" taste, which along with sweetness, sourness, bitterness, and saltiness is one of the five basic tastes we can distinguish upon our tongues. This Japanese term describes a savory, meaty taste that strengthens the flavor of many dishes. This fantastic characteristic is what makes little mushrooms the secret champions of the kitchen. These tasty little guys are also low in calories, low in sodium, fat-free, and contain neither cholesterol nor gluten. They also score highly with protein, fiber and B-vitamins. And, of all the vegetables, they are the only source of vitamin D. Who would have thought it?
Pick your favorite mushroom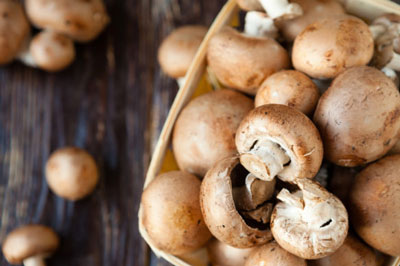 Button mushrooms: Thanks to their mild, nutty flavor, these champions among mushrooms can be used in a variety of dishes: in soups and sauces, as a side dish or in vegetable courses. Real connoisseurs also love them chopped finely in a salad or enjoy eating them raw with their hands. Brown button mushrooms have a slightly more aromatic flavor and aren't as sensitive to pressure as white button mushrooms.
Porcini mushrooms: With their aromatic, intensively nutty flavor, porcini mushrooms are often used to refine pastas and risottos, but also go well with hearty game and other meat dishes. Dried porcini mushrooms will lend any dish a wonderfully savory flavor. Last but not least, this popular mushroom is one of the top performers when it comes to vitamin D content.
Chanterelles: Their slight peppery taste is what gives them their German name, Pfifferling. These little, golden yellow, funnel-shaped mushrooms have to be washed well to remove any grit. But once that's done, they taste superb with pasta, dumplings, game and other meat dishes.
King oyster mushrooms: If it looks like a porcini mushroom but smells like delicious herbs, it's probably a king oyster mushroom. Like porcini mushrooms, the fine, firm king oyster mushrooms can be fried, grilled, steamed or eaten raw.
Shiitake mushrooms: With its broad, umbrella-like cap, the light or dark brown shiitake is native to Asia. They have a wonderful, earthy umami taste with a hint of garlic. It goes without saying that they are great in Asian wok and noodle dishes. But try them in salads and classic mushroom dishes, too.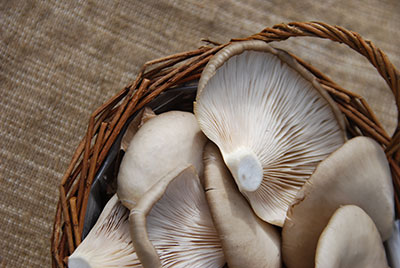 Oyster mushrooms: The broad, grey-brown cap of the oyster mushroom has the look of an oyster shell. But its taste and consistency is more reminiscent of veal. They are an ideal meat substitute as you can braise, roast or grill them. Try using them to make your ground meat go further – a fantastically flavorful yet healthier option.
Mushrooms as a healthy meat substitute
Are you looking to eat less meat for the sake of your health and the environment? Then we have a clever little trick for you. Thanks to their meat-like consistency and savory taste, many types of mushroom are perfect meat substitutes.  The easiest variant: Mix your choice of finely chopped mushrooms with ground meat to make meatballs, ćevapčići, lasagna or Bolognese sauce. This will also make a great filling for burgers, tacos and other dishes. You'll save on calories, saturated fats and sodium without losing taste and texture – and without noticing the difference. This will convince even the most dedicated carnivores who usually have no time for plant-based foods.
If you feel like having a go at more plant-based substitutes, try frying the firm caps of large mushrooms as you would a schnitzel. For this, simply dip parasol mushrooms, oyster mushrooms or similar in egg and breadcrumbs and sizzle in a pan.
Mushrooms are always in season
Have we given you an appetite for making mushrooms a regular feature at mealtimes? Luckily, that's not a problem: Fresh mushrooms are available in supermarkets all year round. Some, such as chanterelles and porcini mushrooms, are only in season in late summer and fall. But many others, such as shiitake, button and king oyster mushrooms, are cultivated and thus available all year round.
The smart way to buy, store and prepare mushrooms
Ensure you select firm mushrooms that look fresh and smell only delicately earthy. Their surface should be dry and taut, not dry and wrinkled. You can store mushrooms in a paper bag or in their original packaging in your fridge for up to a week. They should always be kept in a cool, dry, well-ventilated place. Clean the mushrooms without wetting them, because they absorb water easily. If it is absolutely necessary, clean dirt off under running water and pat the mushrooms dry immediately.
Now the eternal question: Can you reheat mushroom dishes? Yes, if you don't keep the dish warm for too long and you store them in the fridge for no longer than one day. Reheat them as quickly as possible at a high temperature before eating.
Note: Since everyone's health history and nutritional needs are so different, please make sure that you talk with your doctor and a registered dietitian to get advice about the diet and exercise plan that's right for you.