High-protein cereal, high-protein bread and even high-protein chips – protein is currently in the spotlight. Whether for sport, at work or for a diet, proteins are in demand everywhere. But what's the truth behind the hype? How much protein do you really need? Our Aramark nutritionist Ulrike Moessner tells you everything you need to know about this important nutritional substance.
Why does my body need protein?
One thing is clear: Nothing works without protein. After all, protein is one of our essential nutrients. Proteins are vital for building and repairing muscle. And that's not just true for athletes. Proteins can be found in every cell, in bones and tissue. They make our hair, nails and skin strong and durable. Hormones, blood clotting, immune response – all need protein to work.
Will protein help me build muscle?
Sure, our muscles are made predominantly from proteins. Without them we wouldn't be able to lift a finger. But for any couch potatoes thinking they can lounge around eating protein and watching their muscles grow: Sorry, that's not how it works. "More protein does not automatically lead to more muscle growth. Only by combining it with a good workout regimen can you increase your muscle mass," explains Ulrike Moessner.
Can protein help me lose weight?
Sorry, but protein isn't a miracle weight loss solution. Your weight is determined by everything in your diet. And of course by how much you exercise and your genetics. But our nutrition expert Ulrike Moessner does have a great protein fact for you: "Protein can help stabilize your blood sugar level and make you feel fuller for longer. This means you won't feel hungry so soon after eating."

How much protein should I eat?
It depends. "How much protein you need depends on your age, gender, weight and lifestyle," explains Ulrike Moessner. To be more specific: The German Nutrition Society (DGE) recommends a daily intake of 0.8g protein per 1kg bodyweight. That means if you weight 75kg, you should eat around 60g protein every day. If you do a lot of exercise, you'll need more. Children and young people who are still growing and elderly people also need more protein.
How much is too much?
"Most people already eat enough protein," stresses Ulrike Moessner. For this reason, the German Nutrition Society considers the high-protein products that are popular today to be unnecessary. Too much protein can also cause problems. When your body breaks down proteins, it creates acids. If this acid is present for too long, the body releases calcium from the bones to neutralize it. Another waste product created when proteins are broken down is urea. This needs a lot of liquid to flush it out, putting a strain on the kidneys. So protein is best in moderation.
Which is better: plant-based or animal protein?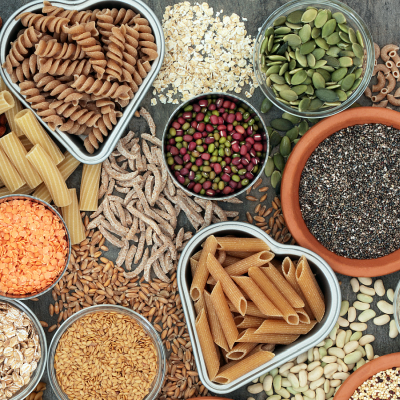 When it comes to protein, many people think of steak, chicken, milk and yoghurt. But proteins from plant sources are just as good. "Animal proteins are more similar to our human proteins. But plant-based proteins can be just as good, especially when they're combined the right way," says our nutritional expert Ulrike Moessner.
Tip: Find out more about clever ways to combine proteins and why that is so important in the article More protein power with a clever combination.
Note: Since everyone's health history and nutritional needs are so different, please make sure that you talk with your doctor and a registered dietitian to get advice about the diet and exercise plan that's right for you.