Build on proteins! Because as one of the three main nutrient groups (along with carbohydrates and fats), proteins play an important role as the vital building blocks of your body. We need proteins for all of our organs and tissues and to build up muscles. They also keep us full and satisfied for longer.
When people talk about protein, the first thing they think of is meat: a lean turkey breast or a juicy steak. But it's not only meat and dairy products that provide high-quality protein. There are many plant-based foods that can contain as much protein as a small steak.
Luscious lentils rather than steak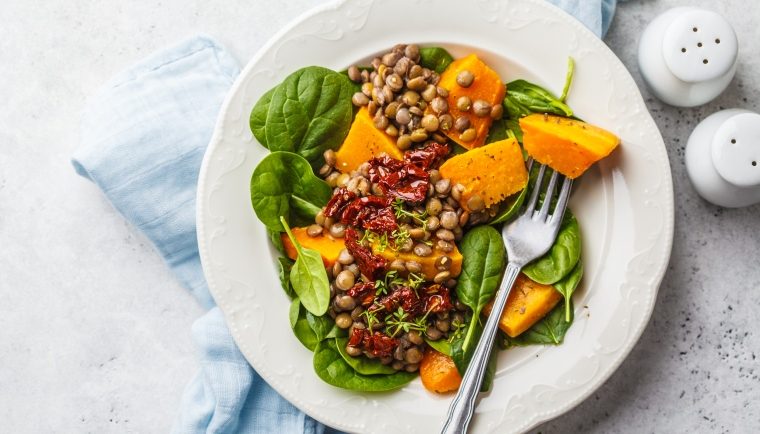 One ever-present plant-based meat substitute is tofu. But did you know that pulses grown right here at home also pack real protein power? Beans, peas and lentils of every color, shape and size form the basis for tasty new recipes. Nuts and seeds such as sunflower and sesame seeds are also great sources of protein and provide us with essential fatty acids. The current trend is: Put more plant-based protein on your plate!
We'll show you how you can get your daily dose of protein from plan-based sources and discover new taste experiences in the process. Get inspired today and start trying which foods taste best on the way to a plant-based diet.
Why not try vegan? Lasagna with tofu
Let's start with the classic vegetable protein: Tofu or "bean curd" is extremely versatile and perfect for a wide range of dishes. With its relatively neutral flavor, it can be constantly reinvented using clever seasoning and marinades. When marinating plain tofu yourself, make sure to squeeze out all the water first. This will ensure the tofu can absorb the marinade better.
Try a vegan lasagna. In this recipe, the tofu replaces the traditional ricotta. Simply mix the tofu with some garlic, salt and lemon zest in a food processor until creamy. Finally, add a few basil leaves sliced into strips. This cream also tastes great as a dip.
Hummus with hemp seeds for an extra portion of protein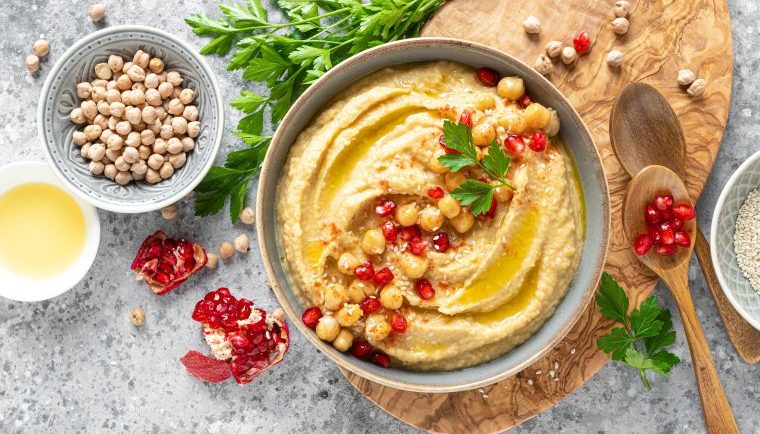 Hemp seeds score highly with their high-quality protein because they contain all of the amino acids that we need to create protein in our bodies.  To make your own hummus, you can use pre-cooked chickpeas from a can or jar. Boil these in water. Then skim off the bits of chickpea skin that float to the top. This will ensure that the hummus is nice and creamy. Now drain the chickpeas and keep a little of the water. Purée the chickpeas together with ground hemp seeds, tahini (sesame paste), avocado oil, crushed garlic, and zest of a lemon until it forms a smooth paste. If it's too firm, add a little of the remaining chickpea water.
Experiment with other flavors according to your personal taste, for example add chili, sundried tomatoes and basil. Or refine your hummus with red bell pepper cooked in the oven, which develops a slightly smoky flavor when roasted.
A filling salad made with lentils and edamame
This salad is made purely of popular protein-rich ingredients: lentils, edamame, marinated ginger and fresh herbs. Our tip: Boil the lentils in four times as much vegetable stock. This will give them enough space to swell and season them nicely. Ensure the lentils keep some of their bite. For green or mountain lentils, this can take around 15 to 20 minutes. Mix the drained lentils with some sesame oil to prevent them sticking together.
For a tasty dressing, mix sliced carrot and chopped kale with minced, marinated ginger, rice wine vinegar, soy sauce and agave syrup and leave to infuse for an hour. Then mix in with the cooled lentils. The highlight of this lentil salad is a topping of shelled edamame. Together with roughly chopped mint, cilantro and a good dash of lime juice, they'll give the whole thing an additional freshness kick. You can also use sugar snap peas instead of edamame. Throw a few cashew nuts on top et voilà – you've made a tasty, super-healthy salad that will keep you full and provide you with plenty of protein without the meat.
Note: Since everyone's health history and nutritional needs are so different, please make sure that you talk with your doctor and a registered dietitian to get advice about the diet and exercise plan that's right for you.