Stay cool on hot summer days – it's easy with these refreshingly cool foods. The cool thing about it: they provide you with additional fluids, taste light and fresh, and give you a boost of nutrients – but contain very few calories. Perfect for getting you in a great summer mood and achieving your top performance on hot days.
Summer and sunshine – we love it! If you want that carefree summer feeling, you need to ensure your body doesn't suffer too much in the heat. You need plenty of fluids and light foods to ensure you aren't left lolling listlessly in the shade. Do you find it difficult to drink enough? You can get the fluids you need not only by drinking, but also by eating. Our refreshing insider tips recommend these cool foods that contain plenty of water to keep you feeling fit and happy.
Really refreshing veg


The most refreshing foods for the summer are vegetables: deliciously juicy, rich in fluids and even richer in flavor, full of nutrients but with very few calories. At 97% water, cucumbers take the top spot – perfect for snacking, in a salad, in a sandwich or in tzatziki. Lettuces such as butterhead or iceberg, are also crisply refreshing at 95% water. Tomatoes and radishes take joint third place with a water content that is only very slightly lower. Just these three frontrunners would already make a fabulously refreshing summer salad. Zucchini, asparagus, kohlrabi, spinach, celery and bell peppers round off this deliciously cooling assortment, each with a water content of around 92%.
Fresh and fruity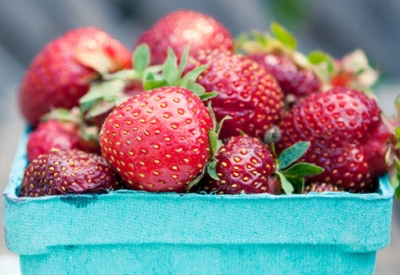 Watermelon, the absolute summer classic, contains a refreshing 90% water and provides plenty of carotin too. In the early summer, strawberries provide you with almost as much water, have a wonderfully sweet flavor and are rich in vitamin C. Delightfully juicy peaches and gooseberries not only make your mouth water, but also contain 87% water. At 85% water, pineapple is an excellently exotic way to get some juicy-sweet summer freshness.
Cool toppings and flavors
Even little additions can bring some coolness to summer. Herbs liven up food and drink with aromatic flavors and also contain plenty of water. Cress has a particularly high water content and mint has a cooling effect in the mouth thanks to the menthol in its leaves. You can also add a refreshing bite and plenty of water by sprinkling freshly grown sprouts and shoots over salads, soups and other dishes.
A refreshing drink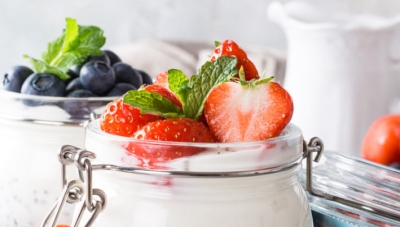 On hot days, we are often very thirsty but not very hungry. And at some point water gets boring. That's when refreshingly nutritious drinks can come into play. Whey, ayran and buttermilk will quench your thirst with over 90% water content while also providing some protein and other nutrients. Soured milk and kefir are a little more nourishing but do contain slightly less water.
Cool treats to keep you fit

When hungry, the best way to satiate yourself is with tasty, summer dishes that contain plenty of water. Gazpacho, a cold vegetable soup, is just as refreshing here as it is in its native Spain. But cucumber soup and tomato soup can also be enjoyed cold. Those with a sweet tooth love a cold, sweet soup in summer. And dishes with yoghurt, quark or tzatziki are also great at filling you up and keeping you cool on hot days. These tips will make it really easy to maintain top form and keep a cool head on hot days.
The top 10 refreshing foods containing the most water
| | | |
| --- | --- | --- |
|   | Food | Water |
| 1 | Cucumber | 97 % |
| 2 | Lettuce (butterhead/iceberg) | 95 % |
| 3 | Tomatoes | 94 % |
| 4 | Radish | 94 % |
| 5 | Whey | 94 % |
| 6 | Zucchini | 93 % |
| 7 | Asparagus | 93 % |
| 8 | Ayran | 92 % |
| 9 | Kohlrabi | 92 % |
| 10 | Bell pepper | 92 % |
Note: Since everyone's health history and nutritional needs are so different, please make sure that you talk with your doctor and a registered dietitian to get advice about the diet and exercise plan that's right for you.